Hydrosol Activators - Turmeric
---
Description

Our .5oz hydrosol activators are a gentler version of essential oils that can be applied directly to the skin without dilution or irritation but with all the powerful healing properties. Use alone or to wetten masks + exfoliators.

Turmeric is rich in antioxidants + is a powerful anti-inflammatory.

Made from the whole-plant then steam-distilled, our hydrosol activators are ultra-gentle and perfect for activating and elevating any Smoothie Mask or Exfoliator to the next level. Made from the whole fresh plant, these hydrosols are never a co-product or by-product like other hydrosols.
Product Benefits

Our hydrosols are distilled using fresh plant material that not only allows capture the cellular water from the living plant. It is this cellular water, imbued with nutritious minerals and fatty acids, that makes it dynamic and vibrant compared to using dried-out material that doesn't retain the important aromatic and therapeutic molecules.

Aroma - warm, somewhat spicy, with delicious nuances of sun-dried raisins and wet earth, reminiscent of the scent that arises following a quenching rain shower.

Benefits - Hawaiian-grown and a marvelous treat for dry, thirsty, dehydrated or upset skin. Known for its beneficial therapeutic values.

* variations in color, consistency, and smell are common with all natural products

Love + Be Well recognizes that no two people are alike, and even with naturally derived ingredients, some individuals may develop an allergic reaction that is unique to them. As with any product, be sure to discontinue use if you experience discomfort or other indications that the product may not be appropriate for your individual body chemistry.
How to Use

Use approximately 1-2 full droppers to activate 1 tsp of powder. There are 12 activations per bottle.

They can be used singularly or mixed and matched to create your own cocktail. Each flavor has its own unique aromatherapy and skin properties, making your skincare routine customized and fun.
Zero-Waste Packaging

We strive for zero waste packaging and shipping processes. All products ship in recyclable boxes, include packaging paper and inserts, and without individual boxes for each item. Our products are bottled in food grade, recyclable glass. Your empty bottles can be reused in lots of creative ways.
Fresh Ingredients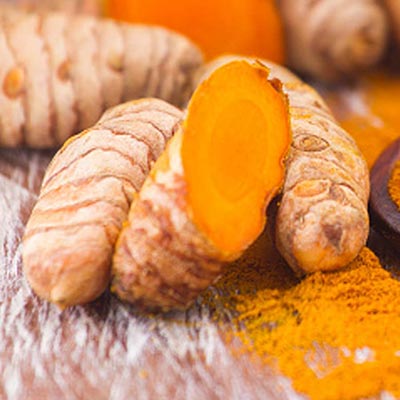 Turmeric Oil
Rich in antioxidants + has potent anti-inflammatory + anti-fungal properties
Helpful Resources from the Be Well Blog